Succulents and Spells out now
Also: books I've been reading! Events and festivals!
I'm delighted to announce that Succulents and Spells is out now. Succulents and Spells is the novella I wrote in lockdown with a group of friends; each of us supporting each other to write fluffy witch stories. It is set in Wellington's Aro Valley and has witchcraft, monsters, science, a secret from the past and a dash of f/f romance.
You can purchase it here; it's just on Kindle for now but there will be a print run at some point.
We kicked the Witchy Fiction project off with three titles; as well as my own there's Nova Blake's Hexes and Exes - a story about a tarot reader who returns to her small hometown and the tragedy she left behind - and Brand of Magic by KM Jackways, a story about an empath witch in Dunedin who meets a man who carves beautiful wooden boxes…
If you want to hear about future releases you can sign up to our Witchy Fiction newsletter. You can also request review copies of the novellas.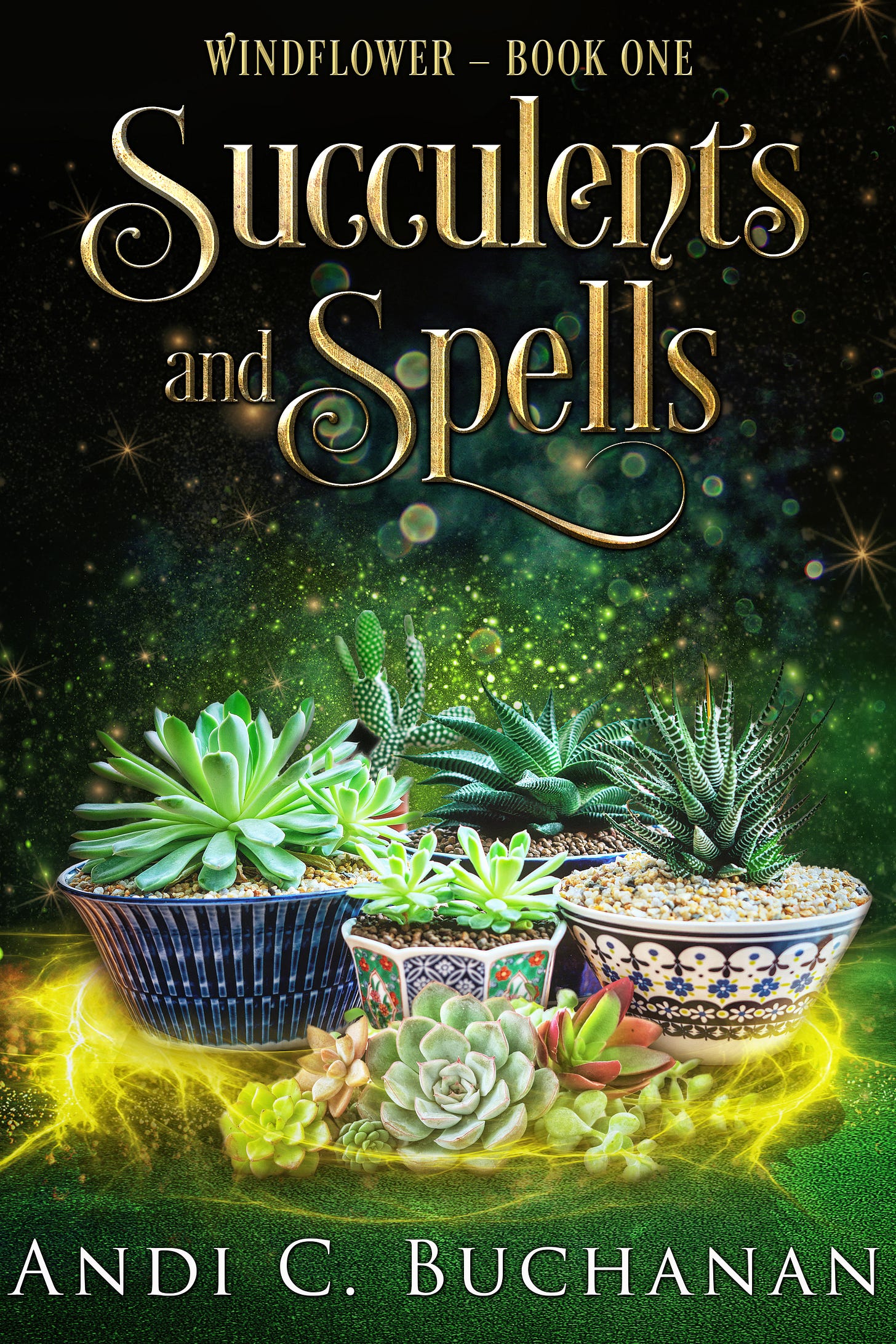 [Succulents and Spells cover which depicts succulents in pots on a green background with yellow sparkles.]
---
Things I've been reading:
(Recommendations, really, because all these three are amazing.)
I had been excitedly waiting for RB Lemberg's Four Profound Weaves for a while, and it was even better than I hoped. I struggle to write about it in the way it deserves; it's this sweeping, lyrical, beautiful story about trans elders and life and friendship and death and the wrongs of the past and making new journeys and choices after many wasted years. It's a book I needed at a deeper level than most. The illustrations are gorgeous.
I've had The Imaginary Lives Of James Pōneke on my to read pile for so long, and I don't even know why; I love Tina Makereti's work. I got the well-researched story and clear, vivid prose I expected; what I didn't expect but was, as they say, extremely relevant to my interests was the vivid, complex depiction of marginalised communities in the 19th century. This… wasn't an easy read (if you have had enough of unhappy queer stories it is emphatically not for you) but it was thoughtful and needed, an attempt to imagine some of the gaps history records poorly.
Lastly it was a delight to finish The Voyages of Cinrak the Dapper by AJ Fitzwater. I'd read stories from this book in various stages of completion but this was the first time I read them all, in order, and it's just such a delight to have these fun, ridiculous - and yet genuine and heartfelt - queer adventure stories. If you're not excited by the idea of a lesbian capybara pirate, a transgender cabin kit, and a kraken named Agnes, I have no idea how your brain works, sorry!
---
Events and festivals!
I was so pleased the Manawatu Writers festival made space for me after my plans for the year changed. I spoke about historical fantasy on a panel with some really interesting writers - it was a delight to meet a new audience, as well as to spend some time hanging out with friends, and finally get out of the city for the first time since February.
I'm also excited to be speaking about Succulents and Spells and the Witchy Fiction project at Verb Wellington's Newtown Sunday Stroll in November.
Finally, I'm hoping the pandemic gods are kind, and I can get to Christchurch for Word next month. I'm not speaking; I'm going to listen, buy books, see friends, and I'm crossing my fingers because the events I have tickets for look amazing. Maybe I'll see you there!
---
[Just my usual note that many of the links in here are Amazon Affiliate links. You may also want to consider other options for getting these books, including your local independent bookshop or your local public library.]